What do you say when your kids lament, "There's nothing to do."? "Let's go to Applefest!" of course.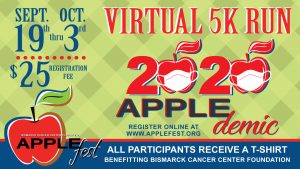 Take part in the Appledemic Virtual 5K Run.  Register to run a 5K between Sept. 19 – Oct. 23 to support the Bismarck Cancer Center Foundation. All participants will receive a t-shirt. 
Enjoy food, music and entertainment from 11 a.m. – 5 p.m. Cars will be admitted with a free will donation.
Featuring local bands: Cotton Wood, Brianna Helbling, & Prairie Road.
Applefest Jam attendees will be entertained & emceed by North Dakota's own Mylo Hatzenbuhler.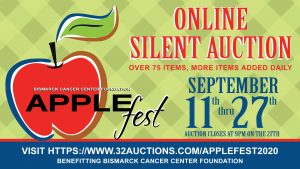 Applefest Silent Auction is online! Browse the amazing silent auction items donated by the community and friends of the Bismarck Cancer Center. Don't forget to share the auction with your friends.