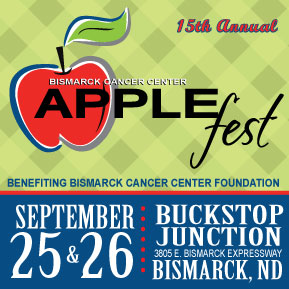 Applefest is back at Buckstop Junction in 2021
September 25-26 at Bismarck's Buckstop Junction
The annual Applefest event is coming home to Buckstop Junciton in 2021. After a year of dealing with changes due to Covid-19, the Bismarck Cancer Center Foundation is bringing Applefest back to Buckstop Junction for music, food, kids' games and more. The event will be held on Saturday, September 25 from 10 a.m. – 5 p.m. and on Sunday, September 26, from 11 a.m. – 5 p.m. at Buckstop Junction, 3805 E Bismarck Expy, Bismarck, ND.
More details coming soon!
Applefest is one of the biggest sources of income for patient services at the Bismarck Cancer Center. We are excited to bring the community together with Applefest to raise Foundation funds for the 15th year!